Ft Lauderdale Fishing Charter Details
Lady Helen Charters, offers several exciting charters to choose from for a Fort Lauderdale fishing experience of a lifetime. Anglers of all levels of experience are welcome, and are encouraged to become involved as much or as little as they desire. All fishing gear is provided and fishing techniques explained.
4hr Charters – We offer both morning and afternoon trips, and we fish on the outside edge of the 3rd reef. The type of fishing being done on these trips is live bait kite fishing for sailfish, dolphin (Mahi), kingfish and other species. At the same time we bottom fish using live and dead baits to keep anglers busy while waiting for strikes from large predators on the live baits. Families are always welcome aboard the Lady Helen and children are encouraged to take part in the experience.
Special trips featuring bottom fishing are made available when children are aboard to provide constant action and excitement. Anglers of all levels of experience are welcome.
6hr Charters – Longer trips permit the time to run further offshore or spend more time on the reefs. These trips are ideal for dolphin (Mahi-Mahi) fishing. When likely areas to hold fish are found trolling baits are employed. When a mahi-mahi is hooked up on he troll, we will leave the fish in the water. This normally brings the other fish in that school close to the one that is hooked. When this occurs we break out the spinning rods and we toss out live baits that the other hungry fish will devour. This type of fishing is some of the most exciting fishing that you can do in South Florida.
The 6hr trips can be split between nearshore and offshore fishing.
Trips can be completed inside the jetty in the calm waters when there is someone aboard who isn't tolerating the sea conditions. Barracudas and Jack Crevalle are always waiting around the rocks ready to inhale a frisky live bait.
Typically we leave the dock at 7:30 a.m.
Food & Beverages ( beer is permitted)
Sunglasses (polarized preferred)
Sunscreen
Hat
Camera
4hr – $700.00
6hr – $900.00
Prices are for the boat. You can go solo or put up to 6 people aboard.
Gratuity not included in price. (15%-20% customary)
A $200.00 deposit by credit card is required to reserve a trip. Cash (preferred) or credit card is recommended as payment for the remaining balance at the conclusion of the trip.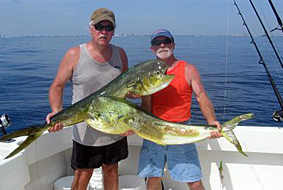 A couple of nice Dolphin caught trolling
a weedline fishing offshore Ft.
Lauderdale. FL.
All sailfish caught aboard "Lady Helen" are brought aboard for a quick photo and measurement, then released unharmed to fight another day. The spectacular fight that the sailfish provides us with must be protected for future generations to experience. Should a trophy for the den or office be desired, our taxidermist will create a replica of your fish using the exact measurements and photo.